Library
ಗ್ರ೦ಥಾಲಯ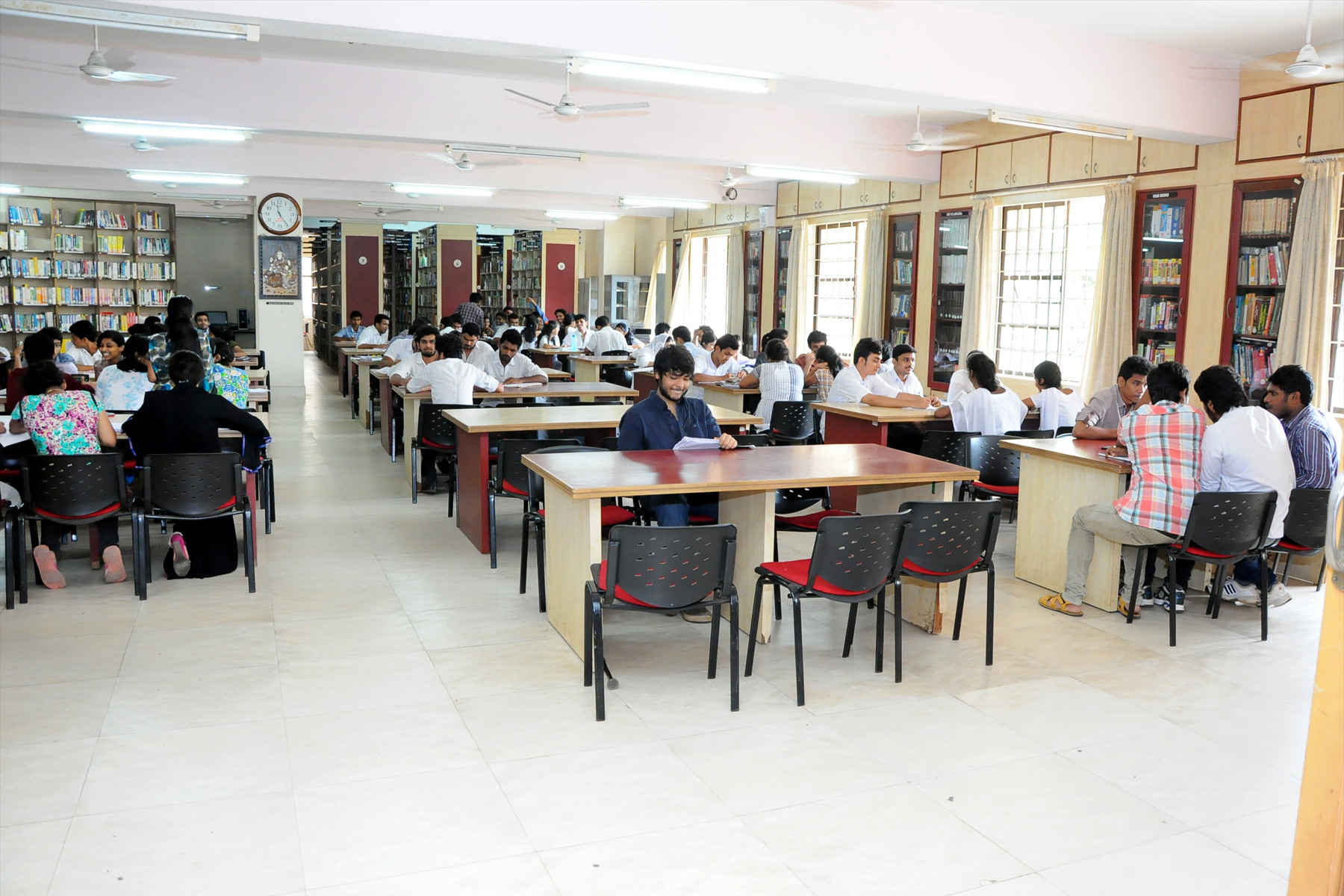 SDM College of Business Management established its library in the year 1978. It started its function with a vision to serve the information needs of its users. The library has a collection of more than twenty five thousand books and subscribes various Journals and e-resources related to Management and other subjects. More than 6000+ e journals and  30,30,000+ e books can be accessed under The Project entitled "National Library and Information Services Infrastructure for Scholarly Content (N-LIST)" of INFLIBNET Centre, Ahmedabad.
DSpace
DSpace digital library software is used to build up digital collection. You can down download old question papers by visiting Dspace
ಡಿಜಿಟಲ್ ಸಂಗ್ರಹವನ್ನು ನಿರ್ಮಿಸಲು ಡಿಎಸ್ಪೇಸ್ ಡಿಜಿಟಲ್ ಗ್ರಂಥಾಲಯ ತಂತ್ರಾಂಶವನ್ನು ಬಳಸಲಾಗುತ್ತದೆ. ಡಿಸ್ಪೇಸ್ಗೆ ಭೇಟಿ ನೀಡುವುದರ ಮೂಲಕ ನೀವು ಹಳೆಯ ಪ್ರಶ್ನೆ ಪತ್ರಗಳನ್ನು ಡೌನ್ಲೋಡ್ ಮಾಡಿಕೊಳ್ಳಬಹುದು
Library Hours: Library is open on all working days from morning 8.30 am to 5.30 pm.
Library Automation: Our Library is fully automated as it runs on in-house software (EERPMS).
| | |
| --- | --- |
| Books | 24518 |
| Titles | 12258 |
| Book Bank | 1162 |
| Journals | 22 |
| Magazines | 47 |
| Newspapers | 16 |
| Project Reports | 4647 |
| CD/DVD | 1607 |
| Average No of Users per day | 175 |
RULES AND REGULATIONS
• Entry to the Library is strictly on producing of Identity Card.
• The Library is open on all working days from 8.30 a.m. to 5.30 p.m.
• Students are allowed to borrow five books at a time.
• Strict silence should be maintained in the Library.
• Student's bags & personal belongings should be kept on property counter outside the library.
• Newspapers and magazines in the Magazine section should be properly placed after reading.
• Discussion, Murmuring & using mobile phones are strictly prohibited in the Library.
• The Librarian is authorized to withdraw the library facilities, if the rules are not adhered to.
Books Borrowers Procedure.
• The students will have to apply for books before 12.15 p.m. on the day prescribed and the books will be issued at 4 p.m. The application will be treated as cancelled if the book is not taken before the close of the library on the prescribed days.
• A student is given 15 days time to the borrowed books after which a fine at the rate of Rs.2 per book per day will be collected.
• There is an option of getting the books renewed for a further period of 15 days. In such cases the student needs to reapply for the books and follow the borrowing procedure.
• No book will further be issued to any student unless he returns the previous one.
• Sub-lending of books is strictly prohibited.
• Any damage done to the books in the custody of the borrower will have to be paid for; if the book is lost the cost of the same must be paid by the borrower.
LIBRARY SERVICES
• Circulation / Lending Service: All books are barcoded , issue and retun of books are electronically maintained with the help of EERPMS software. Each student is eligible to borrow 2 books and each staff 15 books at a time. additional 5 books are issued to top ten scorers in each semester as an encouragement for advanced learners..
• Reference: Library has huge reference collections like Encyclopedia, Dictionaries, Year Books, Biographies, Handbooks, General Studies, Competitive Study books etc. in reference section.
• Online catalogue: OPAC is an online public accessing catalogue. Through OPAC one can access availability of library books, journals and magazine by author, title, subject , publisher, accession number and Call no.
• Reprographic Services: Photocopy facility is provided for students and faculties with nominal charges.
• New Arrivals: The new arrival books are displayed in the new arrival rack.
• Open Access Facility: Library is practicing an open access facility with Dewey decimal classification with bar code system. Users can opt for any books of their choice.
• Learning Resource Center: The users of the library can make use of learning resource centre which has 17 computers for access to e-resources.
BEST PRACTICES
1. Book Bank Services : Top 10 students will be eligible to borrow extra 5 books from the library with the special card given to them.
2. Current Awareness Service: Important local and National news papers are clipped, and maintained. The library notice board is updated on a daily basis with information on movement of Sensex, current news items. Apart from this there are three other attractive library notice boards:
1. Oasis- it covers articles on thoughtful quotes.
2. Speaking tree- it covers article relating to meditation, philosophy, prayers, values, morals, ethics etc
3. Do you Know- this section covers information unknown facts
3. User Education: Annual Library Orientation program for new users and special Sessions on online access to the journals, articles, informative sites are organized.
4. Current Content of Journals: A scanned copy of the management journals content page is sent to each faculties via mail every month.
5. Institutional repository: D-Space is institutional repository software where-in students can access e-books, project reports, syllabus, previous question papers with just one click. http://sdm.ac.in/elibrary/
6. Inter Library Loan: Library has inter-library loan facility through which the users can access all facilities from our sister institutions.
SDM PG Centre for Management studies and research
SDMIMD Mysore
SDM College, Ujire
SDM Law College
E-RESOURCES
• N-List (INFLIBNET) - It is a National Library and Information services Infrastructure of Scholarly Content. It covers more than 6000 articles and more than 30,30,000 e-books. The resources are accessible from the link
http://nlist.inflibnet.ac.in
• SAGE Journals - SAGE is a leading international provider of innovative, high-quality content publishing more than 900 journals and over 800 new books each year, spanning a wide range of subject areas. A growing selection of library products includes archives, data, case studies and video.
https://journals.sagepub.com
• Knimbus consortium e-resource: Through SDMIMD Library Member ship we can access EBSCO, Knimbus open E-Books, Oxford University Press, Springer, JSTOR, Knimbus Open Journals, Science Direct, Taylor and Francis e-resources in Knimbus Consortium.
http://sdmimd.new.knimbus.com
• J-Gate – It was launched in 2001 which helps to access millions of journal articles offered by Publishers. It has a huge database of journal literature indexed from 55,228 e-journals. It is an electronic gateway to global e-journal literature.
https://jgateplus.com/home
• National Digital Library of India National Digital Library of India (NDL India) is a pilot project to develop a framework of virtual repository of learning resources with a single-window search facility. NDL India is designed to hold content of any language and provides interface support for leading Indian languages. It is being arranged to provide support for all academic levels including researchers and life-long learners, all disciplines, all popular form of access devices and differently-abled learners. It also helps students to prepare for entrance and competitive examination, to enable people to learn and prepare from best practices from all over the world and to facilitate researchers to perform inter-linked exploration from multiple sources.
https://ndl.iitkgp.ac.in/